KV's Customer Care Connection - eBusiness Applications for our Customers
Knape & Vogt is developing a series of new e-commerce services to help our customers get the information they need faster and more conveniently than ever before.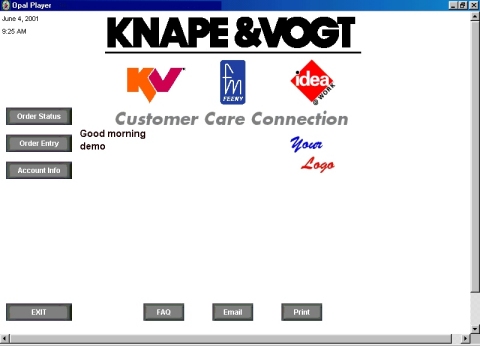 Order Status, Account Status and Stock Status applications are now available. These applications have been designed to meet the needs of each market channel and customer.


Order Status allows you to:
Check order – quantity ordered, shipped and dollar value.

Check where your order is in our system – order entry, manufacturing or shipping.

Check order ship date, carrier tracking information and ship weight.

Link to the carrier's tracking web site (where available).
Account Status allows you to:
Click here to see screen shots of Order Status application

Click here to see screen shots of Account Status application


You need to be registered - sign up now!
To utilize our system, you must be a current Knape & Vogt customer (KV, Feeny, or Idea@Work).

Knape & Vogt's e-commerce services will be offered through a secured system to assure the data exchanged remains confidential.

Please click here for the Extranet Sign Up Form

After we receive your completed sign up form you will receive an eMail with instructions to access the Extranet via the Internet.

System Requirements
Minimum Hardware Requirements: 200 MHz Pentium PC with 32MB RAM
O/S: Windows 95/98 or Windows NT
Browser: Internet Explorer (v 5.0 or higher) or Netscape Navigator (versions 6.0 or higher).
No other software is required.
We're confident you'll like the many improvements underway, which are a continued demonstration of our commitment to build partner-value with you!

If you have any questions, please e-mail support@kv.com